NLB remaining domestic bank, chairman Brodnjak says
Ljubljana, 20 August - NLB chairman Blaž Brodnjak has told the STA that also after its privatisation NLB remains a domestic bank, a bank whose heart and brain are still in Slovenia. He said NLB was looking to strengthen its role as a key regional player, also through takeovers.
Brodnjak said the completed privatisation of 75% minus one share of the bank, which is now in dispersed ownership with the state as the single largest owner, entailed no substantial changes in terms of corporate governance.
"Already prior to that we were an institution of systemic importance under the supervision of the ECB and had independent experts on the supervisory board," he said. Now the bank is a publicly listed company and subject to the responsibilities that come with that.
Brodnjak meanwhile made a point of stressing that NLB had not become a foreign bank as a result of being privatised.
"The state remains the single largest owner and this will not change. We're the only Slovenian bank whose shares can be bought in a transparent and relatively simple way on the Ljubljana and London stock exchanges."
He said it was up to investors to judge whether the bank deserved their trust and whether they wished to take part in the results of a group that in the last three years "in absolute terms recorded the highest profit among all groups seated in Slovenia".
Brodnjak, who added that "all key decisions are being weighed and adopted" in Slovenia and that NLB had "the potential of becoming an even more domestic bank in the future", feels that privatising NLB via the IPO model had been the right choice.
"We're the only international financial group that is present on all markets of the former Yugoslavia from the Western Balkans. We're also the only one seated here and the only one with exclusive strategic interest in this region.
"We bring added value to the clients on our markets, because we speak the languages, understand local specifics, the mentality, have a shared past. Thus our approach is truly that of a strategic partner and not of somebody burdened by potential geopolitical interests."
According to him, Slovenia along with the remaining former Yugoslav region provides enough opportunities for the group to develop successfully. "We don't need to become part of a major international financial group to be successful."
Brodnjak meanwhile noted that certain restrictions to business had already been lifted following the privatisation.
As regards cross-border financing and investment into large public projects, for instance the new rail track to the Koper port, Brodnjak said the bank was in talks on several major deals in the entire region and was interested in being a potential bidder in all key projects.
"We are arriving as somebody with universal presence in the region and with the capacities of the entire group in individual markets, which is why we can also participate in bigger deals," he said.
He highlighted public-private projects as an important source of future revenue given that a number of public infrastructural needs remain to be addressed in the region, while adding opportunities were not only sought in the corporate segment of the Western Balkans but also in EU members.
At the end of the year, restrictions on takeovers will also be lifted. While confirming NLB wished to stay in the Western Balkans, Brodnjak could not reveal any details about potential takeover targets.
He did however highlight Serbia as a likely priority in this context, pointing out NLB's market share there was below 2%, "but no ad hoc decisions will be taken".
Brodnjak is also confident NLB will have no problems reviving its leasing operations, which were affected due to privatisation delays, and moreover, he sees major opportunities in the upgrading of bank insurance and asset management services, arguing the rising standard in the region would increase demand for these.
Notably, also lifted after the privatisation have been pay restrictions for NLB employees and management. Brodnjak said the bank had been able to attract a number of people with specific know-how, also from abroad, in recent months as a result, while he also feels NLB has become very attractive for Slovenian talent.
Also, he argued the negative publicity that the bank had to deal with in the past had decreased markedly, even if it remained a burden from the past NLB needed to reckon with.
Meanwhile, Brodnjak said operations this year had been in line with the expectations and plans. In the coming year a lot will depend on the macroeconomic situation, which is deteriorating in Europe.
He is concerned over signs that the ECB will continue with its policy of low interest rates, arguing this may not necessarily lead to positive effects.
He feels that there is excessive liquidity in the banking system as it is, while financing and investment have not been keeping pace, since business is showing extreme caution in the face of increased uncertainty, while major infrastructure investment is also being postponed.
If the interest rates continue getting lower, this may shake up the banks' business model to a point where it will not be possible to avoid the question of whether it is even still possible to provide nominally positive interest rates for retail deposits, Brodnjak said.
He pointed out that the current environment, which is also seeing a negative yield on Slovenian government bonds, simply does not give banks recourse to enough new moderate risk investment options to allow adequate long-term returns.
Thus all the burdens of the interest rates policy are born by banks, the pressure on which will increase further once the one-off effects of the sale of non-core assets and release of provisions set up during the crisis wear off.
Given that negative interest rates on deposits are a sensitive subject, Brodnjak feels the understanding would need to be strengthened in dialogue with regulators, supervisory and consumer organisations, that it is still much safer for people to keep their money in the bank than at home.
Turning to the consolidation of the banking sector in Slovenia, he said that the sale of Abanka, NKBM and the pending arrival of Hungary's OTP through the takeover of SKB Banka, had strengthened the consolidation process but had not yet completed it.
He expects that in the mid-term, three major pillars will emerge in the Slovenian banking system - one around NLB, one around NKBM and one around banks owned by international banking groups.
Brodnjak feels this will normalise and stabilise the system. There will be fewer "irrational ad-hoc operations" by smaller players, while there will still be enough competition, he argued.
He also expects a consolidation process will occur in the European banking system as a whole, as well as in the region of the former Yugoslavia, where NLB can also play a leading role on certain markets.
As for new competition coming from new players such as fintech companies, Brodnjak said conventional banks will be able to ward it off if they provide a similar experience for clients while making use of the universal character of their services that gives them a competitive edge.
The banks that will not make all standard services available via mobile digital platforms at all times and without red tape will have problems, he said, while also warning of the security and regulatory risks arriving with the new financial players.
Brodnjak meanwhile said that the financial state of households as well as companies in Slovenia was much better than before the crisis and that a fair amount of room for growth remained with both groups. The economy and banking system are also much better prepared for a potential crisis, he added.
Turning to reproaches about the forced excessive capital boost provided by taxpayers to banks in the 2013 bailout and the irregularities that accompanied it, Brodnjak said it was painful to watch expert issues being discussed in a populist fashion.
NLB's capital ratio, at a little under 17% after the first quarter at the level of the group, is exactly at the level NLB needs to conduct its operations without disturbances, pursue its development and growth strategy and thus secure reasonable returns for the shareholders, including the state whose aid is thus being repaid, he said.
He said the issue of the total scope of the bailout and its costs should be viewed in a comprehensive manner that also considered all the positive effects for the country and its economy. This "puts it in a whole new light and shows that maybe it was not as expensive as it seems".
__________________________________________
Text: Jernej Šmajdek, STA
Photo: STA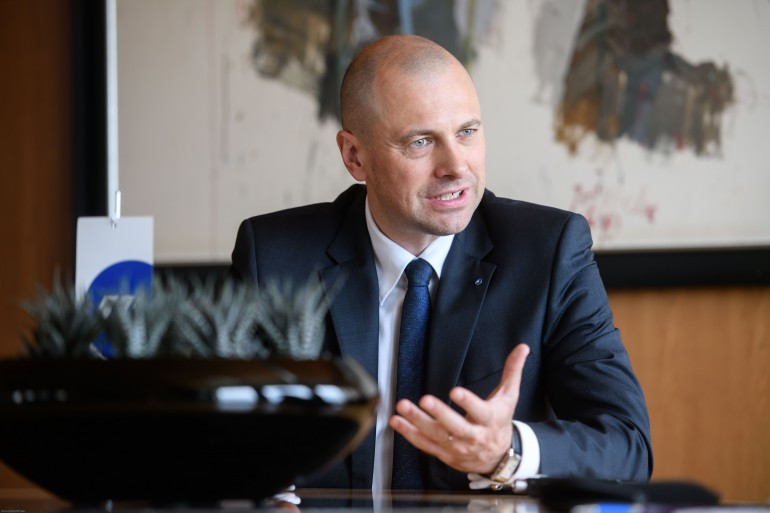 Blaž Brodnjak, President of the Management Board of NLB