Classic Non-Resident Account
For anyone with permanent residence abroad (non-residents) who expects more from their bank account than merely basic services.
Multi-currency account.

Payment of regular monthly obligations via standing orders and direct debits and SDD.

NLB Plus service for the automatic transfer of funds between accounts.

Option of receiving Security SMS messages.

Information regarding account balances via NLB SMS-Messaging Service and the NLB Automated Response System.

Monthly statement of account transactions.
Payment cards
For carefree cash transactions.
International BA Maestro payment card for non-cash payments and withdrawals from ATMs at home and abroad, and the option of using other payment cards.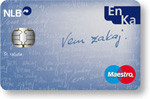 Opening a new account
Required documents:
Valid passport,
Confirmation of Slovenian tax number, and
Foreign tax number.
Signing of agreement:
You may open an account at any NLB branch or submit the requisite form via the internet.
You can do everything necessary through us if you wish to transfer your business to NLB from another bank.
The monthly account management fee is 3.49 EUR. Interest rate: 0,01% per annum on positive balance.
Skrita vsebina
Open an Account
Thank you for your shown interest.
We will contact you as soon as possible.