Basic Non-Resident Account Package
An account that facilitates the execution of basic banking services in accordance with the Payment Services and Systems Act (ZPlaSS-E).
For anyone with permanent residence abroad (non-residents) who prefers to transact in cash.
Monthly fee includes:
opening and closing the account and account transactions in euros,
monthly statements of account with monthly statements,
free withdrawals from ATMs in Slovenia and EU,  
up to eight payment transactions free-of-charge,  
NLB Klik with a soft token ID element, and no registration or usage fees, with free security SMS included, and online payments.
The monthly fee comes with a 50% discount for the recipients of social assistance benefit in cash and/or income support.
The account does not provide for:
standard and special overdraft facilities,
the possibility of authorisations,
account transactions in currencies other than the euro,
the use of credit cards.
Payment cards
For carefree cash transactions.
International BA Maestro payment card for non-cash payments and withdrawals from ATMs at home and abroad.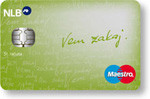 Opening a new account
Required documents:
Valid passport,
Confirmation of Slovenian tax number, and
Foreign tax number.
Signing of agreement:
You may open an account at any NLB branch or submit the requisite form via the internet.
You can do everything necessary through us if you wish to transfer your business to NLB from another bank.
Skrita vsebina
Open an Account
Thank you for your shown interest.
We will contact you as soon as possible.