Share Capital
Shares
Nova Ljubljanska banka d.d. is a company jointly owned by shareholders and its shares are not publicly quoted on the Stock Exchange.
Number of Shares and Shareholders
As at 31. 12. 2017, the capital of the Bank was composed of 20,000,000 non-par value shares, which were owned by 1 shareholder. Shares are registered at the Clearing House, all as ordinary class.
Number of Shares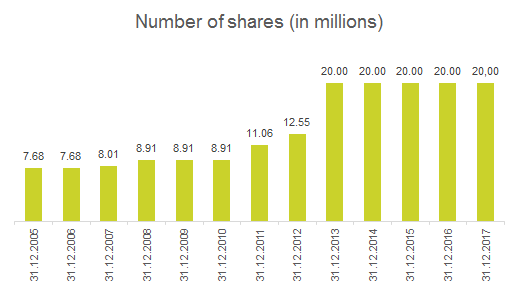 Number of Shareholders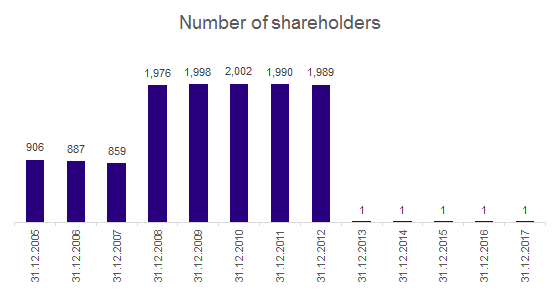 Key Figures per Share
| in EUR | 2005 | 2006 | 2007 | 2008 | 2009 | 2010 | 2011 | 2012 | 2013 | 2014 | 2015 | 2016 | 2017 |
| --- | --- | --- | --- | --- | --- | --- | --- | --- | --- | --- | --- | --- | --- |
| Book value | 79.1 | 86.5 | 106.8 | 135.0 | 132.7 | 111.2 | 86.8 | 58.4 | 54.7 | 60.3 | 62.1 | 63.2 | 69.1 |
| Dividends paid out | 2.5 | 4.1 | 5.3 | 0.3 | - | - | - | - | - | - | 2.195 | 3.189 | |
| Earnings per share (EPS) | 6.2 | 10.3 | 15.4 | 5.9 | - | - | - | - | - | 4.08 | 2.19 | 3.2 | 9.5 |
Shareholder Structure
The Largest Shareholders of NLB as at 31. 12. 2017
| | Name | Number of shares | Share in % |
| --- | --- | --- | --- |
| 1 | Republic of Slovenia | 20,000,000 | 100.00 |
| | Total shareholders | 20,000,000 | 100.00 |
BOOK VALUE OF NLB SHARE
---
31.03.2018
72.2 EUR